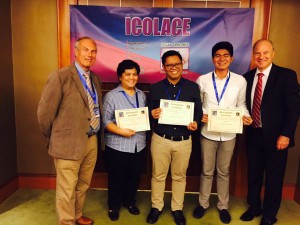 Silid Aralan, Inc. (SAI) had been privileged to be part of the 4th International Conference on Learning and Community Enrichment (ICOLACE) 2016 held at Hotel Jen Tanglin, Singapore last October 24-26, 2016.
ICOLACE is the annual event convened by the International Association for Lifewide Learning (IAFLL) supports any forms of learning technologies that can enrich and empower the capabilities and character of the learners. They believe that through guiding students into a lifewide learning, students will be able to fulfill their visions. And as part of their objective for the students, is convening ICOLACE which help and inspire educators build this lifewide learning space for students.
SAI was represented by its very own Founder and Executive Director: Mr. Arcie G. Mallari, Operations Manager: Ms. Arlene Acosta, and Rodriguez Project Leader: Mr. Angelo Roxas. Mr. Mallari.